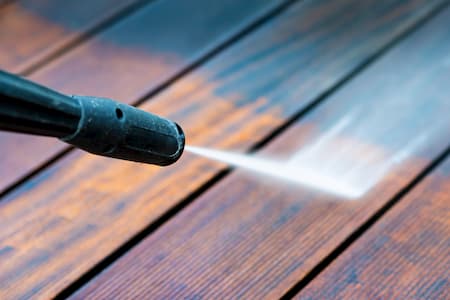 T & P Cleaning is your expert deck cleaning service provider in Sammamish! Are you in need of a good deck cleaning? We are ready, willing, and able to help you make your outdoor living space feel fresh and new again.
As a homeowner, we know that you take a great deal of pride in their deck. We know how important it is to you to keep your deck as clean and inviting as you would an indoor living space.
To keep your deck clean and inviting, it needs to be cleaned regularly.
You usually only need to schedule a deck cleaning once every three years. In a climate like ours, though, hard water, algae, and other contaminants build up quicker than usual. In that case, you'd likely need to schedule a deck cleaning more often.
As your trusted provider of pressure washing in Sammamish, we offer deck cleaning services that provide results you can be proud of. Much like our driveway cleaning service, we use an effective combo of safe high pressure and environmentally-safe cleaning solutions that will have your deck looking as clean as the day you built it.
Amazing Results At Equally Amazing Prices
As a veteran-owned business, you can trust T & P Cleaning to leave your deck in better shape than when we started our cleaning job. We pride ourselves on delivering big results at low prices, and we assure you that you can count on us to get the job done right the first time!
If you need deck cleaning services, we're here to help. Give us a call today at 360-477-1254 to get a quote or schedule a deck cleaning service. We look forward to hearing from you.