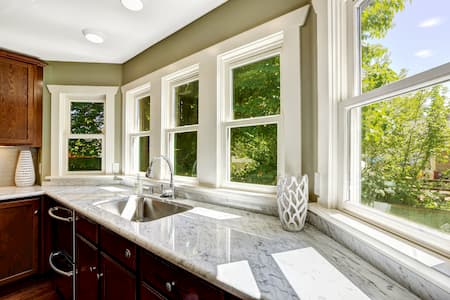 Sammamish, trust T & P Cleaning for all of your interior window cleaning needs! You know that clean windows are incredibly important to keep a clean house. After all, windows are the most easily noticed part of your house! However, it isn't an easy job, and it can be frustrating to you as a homeowner if you work for hours only to get a filmy, streak-laden result.
Residents in Sammamish have trusted T & P Cleaning with providing expert window cleaning services for a long time. You trust us because you know that we go the extra mile to give your windows a thorough and detailed cleaning inside and out.
Are Your Windows As Clean As They Should Be?
It's easy for grime to build up on windows, especially from the inside. Because of how easy it is for your windows to accumulate dirt and debris, it's suggested that you have them cleaned every six months to a year. Go any longer than that, and you might notice that it's getting a little tough to see out of them!
The interior surfaces of your windows are a prime breeding ground for bacteria because of the contaminants that accumulate on them day in and day out. You and your houseguests often come in contact with your windows multiple times a day, which can lead to a quick build-up of:
Fingerprints

Food Stains

Water Stains

Dust And Dirt
Let Us Take Care Of Your Window Cleaning Duties
You may know that it's past time for your windows to be cleaned, but it's not something you enjoy doing. You aim time after time for a perfect streak-free finish, and when you don't get that, it can be frustrating. That's why we're here to take care of it for you.
We are able to reach even some of the toughest windows in your home including your skylights. Look at the video below of us effortlessly reaching some of those tough to reach windows. We will leave your windows streak free and your home feeling refreshed!
Our long-time Sammamish customers are always impressed with the streak-free shine we leave on their windows when we're finished with our job. Don't take our word for it, though - we'd love to show you the T & P Cleaning difference.
Are you in Sammamish and need a good interior window cleaning? Give us a call today at 360-477-1254 to get a quote or schedule an appointment. We look forward to hearing from you!