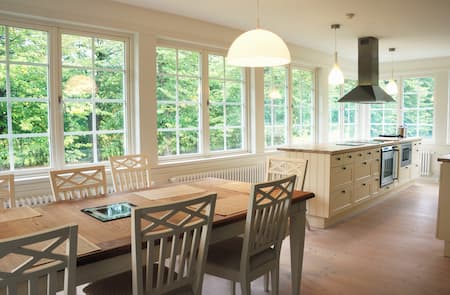 T & P Cleaning is proud to serve the city of Seattle with exceptional pressure washing services. Seattle is a city with a vibrant culture and houses to match. We are always thrilled to work on a project for our Seattle neighbors because we know we're helping you restore a grand luster and shine to your beautiful houses.
As with any house situated in a Pacific Northwest climate, yours is at the mercy of the elements. If it's been more than a year since you've had your house or other exterior surface elements washed or clean, they've probably gathered their share of:
Slick Algae Buildup

Mold And Mildew

Dirt, Dust, And Debris

Hard Water Stains
And other grime that can drag the look of your house below standard. If you notice an overabundance of dirt and grime on your house and other exterior surfaces, it's time for a pressure washing.
Small Town Pressure Washing Efficiency, Big City Dazzle For Seattle Homes
We care as much about your house and exterior surfaces as you do. This is why we train our pros to carefully wash your house and other surfaces with only the amount of pressure needed. When we're washing houses and other delicate surfaces, such as roofs, wood patios, and screens, we use a safe modern soft wash method.
We do use higher pressure cleaning methods, but only on surfaces that can withstand them, such as concrete, brick, and stone. Even our high-pressure methods are gentle and safe, posing little to no risk of harm to your house, exterior surfaces, yard, or landscaping features.
Safe Window Cleaning Services For Our Seattle Neighbors
To help you keep your house at peak curb appeal, we offer a variety of cleaning and washing services to help your house look its best. Some of the services we offer include:
Soft Washing

Gutter Cleaning

House Washing

Sidewalk Cleaning

Building Washing

Window Cleaning

Gutter Brightening
Seattle neighbors, has it been over a year since you've had your house or other exterior surfaces washed or clean? If so, call us today at 360-477-1254 to get a quote or schedule an appointment. Our pros look forward to serving you!