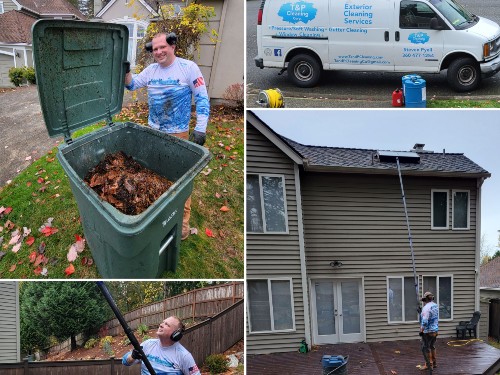 The best pressure washing in Duvall is provided by T&P Cleaning. Our firm has exclusively offered top-notch services to enhance your property, ranging from full services for both exterior surface cleaning and pressure washing. In Duvall and beyond, T&P Cleaning is happy to offer pressure washing services.
Get Professional Window Cleaning in Duvall
T&P Cleaning specializes in window washing. Our team of experts has the experience and skill needed to make sure your windows are squeaky clean. We also employ the latest safety techniques to make sure your windows are handled with care. We understand the importance of keeping your windows looking their best, and that's why we take our job seriously.
We understand that window washing can be a time-consuming and difficult task. That's why we make sure that our services are as efficient and convenient as possible. Our team is dedicated to making sure that your windows are looking their best in the least amount of time. We also offer competitive pricing so that you can get the best value for your money. So if you're looking for a reliable and affordable window washing service in Duvall, look no further than T&P Cleaning.
Soft Washing Duvall Homes & Rooftops
Are you searching for exceptional roof cleaning services for your Duvall home? Then come on down to T&P Cleaning today!
Our roof cleaning services will ensure that your home is clean, safe, and healthy. Our services will eliminate unsightly and harmful growths, debris, stains, etc. that have been plaguing the surface of your roof.
We utilize soft washing methods for our roof cleaning services. Soft washing is ideal for gentle surfaces, such as your roof. Pressure washing can cause damage to weaker surfaces, which is why we use soft washing methods instead.
If you're interested in utilizing our roof cleaning services, then please give us a call today at T&P Cleaning in Duvall, and let's get started!
Make Your Duvall Home Shine with Gutter Cleaning from T&P Cleaning
Are you looking for a way to boost the curb appeal of your Duvall home? Gutter cleaning can make a huge difference in the look of your house. T&P Cleaning offers comprehensive gutter cleaning services for all shapes and sizes of gutters. Our professional technicians can make sure your home looks its best.
Gutter cleaning is essential for protecting your home from water damage. Clogged gutters can cause overflowing water to damage your roof, siding, landscaping, and even the foundation of your home. That's why it's important to have your gutters cleaned regularly. T&P Cleaning has the experience and expertise to make sure your gutters are clean and functioning properly.
The benefits of gutter cleaning are numerous. Clean gutters can help prevent water damage to your home, protect your landscaping, and extend the life of your roof and siding. Additionally, clean gutters can improve the overall look of your home, dramatically increasing its curb appeal.
Some of the benefits of gutter cleaning include:
Prevents water damage to your home
Protects landscaping from erosion
Extends the life of your roof and siding
Improves the overall look of your home
For professional gutter cleaning services in Duvall, contact T&P Cleaning today. Give us a call at 360-477-1254 for more information or to schedule an appointment.
House Washing To Maximize Your Duvall Home's Visual Appeal
Don't let time and the elements take their toll on your Duvall home's exterior- T&P Cleaning's house washing will turn back the clock and restore your home's beauty! No exterior surface is invulnerable to algae, mildew, pollen, and other grime and debris. Over time, the slow and steady buildup of these messy nuisances subtly coats your sidings and dulls your home's appearance. If the stains are allowed to form and grow out of control, they can become permanent and deteriorate your home's surface materials!
The occasional house washing is like a mini-makeover and a checkup at the doctor's office for your home rolled into one. We carefully but thoroughly wash down your sidings until they are spotless and free from grime and debris. Our house washing improves curb appeal, restores color and brightness to your sidings, and eliminates troublesome substances and microorganisms that can harm your home's exterior or create an unhealthy, unhygienic environment for the humans living in it.
We hold ourselves to high standards to bring our clients the top Duvall pressure washing. If you're considering our services for house washing, you can count on receiving five-star care. If you're interested in getting a free quote, give us a call today at 360-477-1254.
Duvall's Driveway Washing Professionals
At T&P Cleaning, we use environmentally friendly products that are safe for your driveway, family, and pets. We understand the importance of protecting our environment, and that's why we choose to use products that are biodegradable and safe for the environment. Our team is dedicated to providing the best services possible while also keeping the environment in mind.
When it comes to driveway washing, it's important to choose a company that you can trust. At T&P Cleaning, we have experience providing top-notch pressure washing and driveway washing services in Duvall. Our team is knowledgeable and experienced in the latest techniques and equipment, ensuring that your driveway receives the best cleaning possible. Our commitment to quality and customer satisfaction is what sets us apart from the rest.