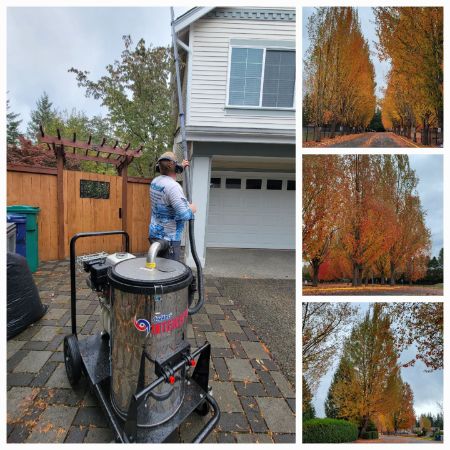 When you need pressure washing or soft washing services for your Carnation area home, T&P Cleaning is the only name you need to know. We offer reliable, dependable service to our friends and neighbors in the Carnation area and would love to add you to our ever-growing list of satisfied customers.
With our customer service experience, we are well-versed in what it takes to keep satisfied customers coming back. T&P Cleaning is fully insured, giving you the peace of mind, you deserve when it comes to at-home services. We'll never share your personal information with a third party – we value your privacy. We're open Monday through Saturday from 9 a.m. to 5 p.m. and offer weekend hours for your convenience. When it comes to an exceptional customer experience, it's our goal at T&P Cleaning to deliver time after time.
Our skilled technicians use top-of-the-line equipment to tackle your exterior cleaning needs. Our pressure washing and soft washing solutions are biodegradable and environmentally friendly and are always safe for people, pets, and plants. We're up to speed on the latest products and applications, and the pros at T&P Cleaning can customize our services to meet your specific needs.
T&P Cleaning offers a full line of professional exterior cleaning services for your home, including:
We can clean a variety of outdoor areas and remove the toughest stains from your most fragile surfaces. Pressure washing is the ideal application for removing tough stains from your driveway. Using the power of pressurized water, pressure washing blasts away pollutants from your surfaces. Soft washing is the gentle alternative to high-pressure washing and utilizes a higher concentration of cleaning product to saturate and eliminate tough organisms at their source. Pollutants are then gently rinsed away with a stream of clear water. No matter what type of surface you need cleaned, T&P Cleaning has the right touch to safely clean all of your surfaces and leave them with a spectacular freshness.
Pressure Washing Revives Your Carnation Surfaces
The tough Texas elements can leave your outdoor spaces looking dull and lifeless. Dust storms, rainstorms, harsh UV light, and other environmental factors can cause weathering of your surfaces. Invasive organisms can take root deep within the pores of your exterior surfaces and can spread to your substructure. Dangerous organisms and allergens can pose a health threat to your loved ones and can detract from your family's enjoyment of your outdoor living areas. The pressure washing professionals at T&P Cleaning have the tools, the know-how, and the expertise to remove a variety of contaminants from your outdoor surfaces, such as:
Dust, dirt, and mud

Automotive fluids, grime, and grease

Lichen and algae

Pollen and other allergens

Bird and animal droppings
At T&P Cleaning, we're ready to tackle your Carnation pressure washing project, no matter how large or small!
Revitalize Your Carnation Home With Roof Cleaning
You'll be the envy of your Carnation neighborhood with roof cleaning from the pros at T&P Cleaning. Using our soft washing application, we can remove your toughest deeply rooted algae, moss, lichen, and other invasive and unsightly organisms from your roof's surface and leave it with a spectacular sparkle. Let us give your roof the right touch with professional roof cleaning services from T&P Cleaning.
Call us today to schedule your free consultation for exterior cleaning services for your Carnation area home at 360-477-1254. T&P Cleaning is here to serve you!