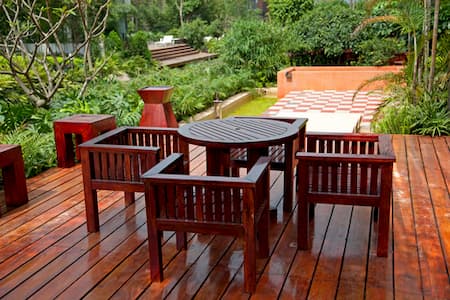 Few things are better in life than a freshly cleaned deck. In Washington, the climate is perfect for enjoying the great outdoors, spending time with family and friends on the deck is a favorite pastime. This is why we keep our decks in pristine shape. How do we do it? Read on to learn more.
Keeping Your Deck Clean
Scheduling a regular pressure washing service for your deck is just as important as scheduling a regular house washing. Your deck needs to be washed about as often as your house, about every 12 to 18 months.
Your deck probably sees plenty of foot traffic throughout the year, especially if you love to host. Over time, all that foot traffic tracks in dirt and debris. Sweeping them away is a temporary fix, but there are always some particles that'll get stuck in the pores of your patio.
Thwart The Elements
Dirt and other debris aren't the only enemies your patio has to deal with. It'd be nice if they were, but there are other foul things at play trying to break your patio down.
It's well-known in Washington that we see our share of rain all year round. With our proximity to the coast, it's a given that we'll see more rain than some of our neighbors further inland. Those rains bring all sorts of nasty elements into play to damage the surface of your patio, such as:
Hard Water Stains

Slick Algae Coating

Mold And Mildew
The great thing is that our pros can easily wash those away with our patented soft wash method. Our soft wash method is environmentally safe and is formulated to do no damage to your exterior surfaces or your yard.
Call 360-477-1254 to find your way to a perfect deck! Our pros are ready and willing to assist you with all of your patio cleaning needs.